Organizer

Show Management Office
CNT Inc.
FORECAST Kanda
Suda-cho 4F., 1-24-3 Kanda
Suda-cho, Chiyoda-ku,
Tokyo 101-0041, Japan
TEL. +81-3-5297-8855
FAX. +81-3-5294-0909
info_en@autoid-expo.com
Concurrent Exhibition
Booth Size & Charges
Deadline for application on the exhibition:
May 31 (Tue), 2022
Type A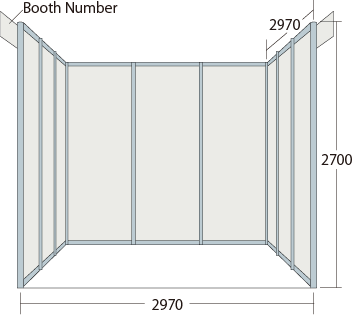 Minimum booth Unit (size) :
2.97m(W)×2.97m(D)×2.7m(H)
Exhibition charges
Number of

booths

Exhibition Fee
(Cost per booth including consumption tax)

JAISA members
Non-members
1 to 2 booths
429,000 yen
484,000 yen
3 to 7 booths
385,000 yen
440,000 yen
8 to 12 booths
341,000 yen
396,000 yen
13 to 15 booths
330,000 yen
385,000 yen
16 to 24 booths
319,000 yen
374,000 yen
25 booths or more
297,000 yen
352,000 yen
(JPY, Consumption tax included)
The exhibition fees include: exhibition space
-- width: 2.97 m × depth 2.97 m -- walls
Explanation of Booth Layout
Layout of booths is to be chosen from alternatives shown on the below.
Minimum 4 units of booth are required to form "Block" type layout.
Minimum 8 units of booth are required to form "Island" type layout.
The maximum number of booth allowed to form "Row" type layout is 5

On height restrictions for decorations
*Row type booth(s)
*Block type booth(s)
Decorations are permitted to a maximum height of 2.7m for areas within 1m of adjacent booth, rear walls and access aisles, while the maximum height for any areas other than these is 3.6m.

*"Island" type booth(s)
Decoration is permitted up to a maximum height of 5.0m.
Type B (Low-priced, Small size)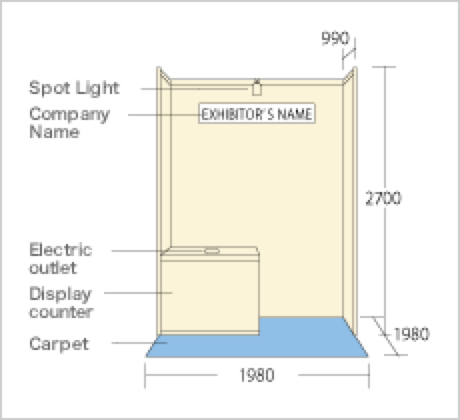 Minimum booth Unit (size) :
1.98m(W)×1.98m(D)×2.7m(H)
Participation fee per minimum booth unit
Number of

booth

Exhibition Fee
(Cost per booth including consumption tax)
JAISA Members
Non-members
1 to 2 booths
231,000 yen
264,000 yen
The exhibition fees include:
exhibition space -- width: 1.98 m × depth 1.98 m -- walls (rear and side, 1 m); company nameplate; carpet;
exhibition stand--width: 1.0 m × depth 1.0 m × height: 0.8 m -- spotlight: 100W × 1; electrical outlets (100V with ground) ―one set of two outlets; installation costs for electrical lines up to 500W; electricity costs.
* Additional charges apply for requests of additional equipment. Detailed materials will be distributed at the orientation for exhibitors.
* Please be aware that even when the basic display mentioned above is not used, deductions from the exhibition fee cannot be made.
On height restrictions for decorations
The maximum standard height is 2.7 m.
Exhibition conditions
Up to two booths per company
Cannot be exhibited together with Type A exhibition specifications
Presentations using equipment such as microphones and speakers cannot be given in the booths.
The locations of the booths are not determined by lottery, but rather at the discretion of the host.