Organizer

Show Management Office
CNT Inc.
FORECAST Kanda
Suda-cho 4F., 1-24-3 Kanda
Suda-cho, Chiyoda-ku,
Tokyo 101-0041, Japan
TEL. +81-3-5297-8855
FAX. +81-3-5294-0909
info_en@autoid-expo.com
Concurrent Exhibition
The only exhibition in Japan devoted exclusively to cutting-edge automatic identification products, technologies and solutions.
Message from the Chairman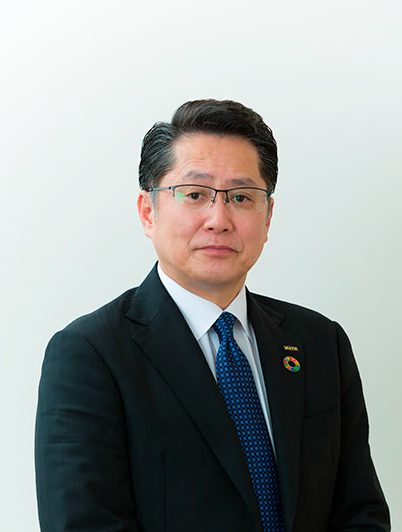 Japan Automatic Identification
Systems Association
Chairman Ryutaro Kotaki
Thank you for your continued valuable support and contribution to the activities of the Japan Automatic Identification Systems Association.
This year marks the 24st edition of the AUTO-ID & COMMUNICATION EXPO. Recognized at home and abroad as Japan's only trade show dedicated to automatic identification technology and solutions, it has become a popular and highly anticipated event.
With "Connecting to the Future through AUTO-ID" as its theme, the exhibition will introduce cutting-edge ID technologies. In the zone exhibition area, visitors will be able to enjoy specialized zones, such as the Mobile & Wearable Zone and the Imaging Zone, to their heart's content. We will prepare a wide variety of exhibition features such as automatic identification case studies (panel displays of exhibitors' case studies) and announcement of the winners of the Automatic Identification System Awards. Seminars and JAISA presentations will also be offered throughout the exhibition period, with 12 sessions and 32 lectures in areas that will be of high interest to everyone.
In order to ensure the safe implementation and operation of the exhibition and seminars, the exhibition secretariat will take measures to prevent the spread of COVID-19 in cooperation with the facility secretariat and related parties.
We are greatly looking forward to seeing you at the event.
General Information
Title

AUTO-ID & COMMUNICATION EXPO 2022

Show Period

September 14 (Wed.) - 16 (Fri.), 2022

10:00 - 17:00 (for all three days)

Venue
TOKYO BIG SIGHT, West Hall 4
(Tokyo International Exhibition Center)
3-11-1, Ariake, Koto-ku, Tokyo 135-0065 Japan
Tel: +81-3-5530-1111
Admission fee
¥1,000 (Free entrance for visitors with invitation tickets.)
Sponsor
Japan Automatic Identification Systems Association
FK Bldg.7F, 1-9-5, Iwamoto-cho, Chiyoda-ku,
Tokyo 101-0032, Japan
Tel:+81-3-5825-6651 Fax:+81-3-5825-6653
https://www.jaisa.or.jp
Supporting Organizations

Ministry of Internal Affairs and Communications
Ministry of Foreign Affairs of Japan/ Ministry of Economy, Trade and Industry

Special Cooperation

SANKEI SHIMBUN CO.,LTD.

Cooperating Organization

Approx.30 relevant organizations

Special Exhibit Zone
Mobile & Wearable Zone
An exhibit zone for Mobile and Wearable Devices.
Imaging Zone
An exhibit zone Featuring State-of-the-Art Applications of Image Identification Technology
Concurrent Programs
AUTO-ID Seminar, Business & Technology SPICE (language Japanese only)
September 14 (Wed) - 16 (Fri)
Concurrent Exhibition
JIMA2022
INTERMEASURE 2022
SENSOR EXPO JAPAN 2022
SUBSEA TECH JAPAN 2022
Geotechinical Forum 2022
FORESTRISE 2022
Show office
CNT Inc. Attn: (Mr.) M. Tanaka
4F, 1-24-3 Kanda Suda-cho, Chiyoda-ku,
Tokyo 101-0041, Japan
Tel: +81-3-5297-8855 Fax: +81-3-5294-0909
E-mail: info_en@autoid-expo.com

Preventative Measures Against COVID-19
You are requested to strictly follow the measures detailed below when participating in this event.
If any of the following conditions below apply, please refrain from participating:
1) If you have a fever of 37.5 degrees or higher.
2) If you have cold symptoms such as cough, runny nose, phlegm, sneezing or sore throat.
3) If you are suffering from weariness (fatigue) or shortness of breath (difficulty breathing).
4) If a member of your family or a colleague is suspected of COVID-19 infection.
5) If you have any other symptoms of COVID-19.
6) If within the past 14 days you have been in a country or region for which
the Japanese government has announced entry restrictions or a quarantine period, or had close contact (more than 2 hours within 2 meters) with someone who has.
You are expected to cooperate with the following prevention measures against COVID-19.
If you fail to do so you will not be permitted to enter the event.
1) Hand sterilization
2) Wearing a mask at all times
3) Temperature measurement
4) Entry controls to the event to limit the number of visitors
Please note that we may disclose registered personal information (name, contact details, etc.) of anyone who has attended the event to relevant government agencies if requested to do so.
Please note that the above health-related measures may be altered depending on circumstances.